Toledo Pool Services | Call Us Today: 419-874-1900
The estimated life of a pool liner will last a homeowner about 10 years based on the quality of pool maintenance and usage the liner undergoes. Eventually your liner will start to wear out from holding thousands of gallons of water on a daily basis. Maybe it will develop a teeny, tiny tear that you can't even see unless you're right up on it and happen to notice it. Some tears can go unnoticed and then it its too late to patch it because it tears completely. In other cases, damage can occur from accidents, forces of nature, lawn mower shrapnel, animals, and just old age. A liner leak can cause structural concerns overtime. Normal evaporation can lower a pools water level by a ¼ or ½ an inch per week. If your pool water level is dropping by more than an inch or more per week, it may be an indication of a leak. Eventually a leak could damage the underlying structure of the pool, the deck and your yard. Daudelin offers leak detection for pool liners, but hard to find leaks might need the assistance of a company that specializes only in leak detection.
Daudelin uses Latham Vinyl Inground Pool Liners. All liners feature their exclusive Ultra-Seam technology, chemical and bacteria resistant vinyl, and provide several options of patterns to fit any backyard landscape.
Visually speaking, the most important decisions you will have to make is choosing the best vinyl liner for your pool. Latham helps you with this decision with their new Latham Liner Visualizer app!
See How Your Replacement Pool Liner Will Transform Your Backyard Before Purchasing It!
With the Latham Pool Visualizer app, browse though several vinyl liner designs and see your pool transform in real time!
The Latham Pool Visualizer App contains our most popular fiberglass pool designs so you can visualize what a Latham pool looks like in real time, right from your own property. You can also visit our showroom to view these pool liner samples in person.
What is our process for liner replacement?
The first step is to have an owner/representative come out and assess your pool. Call our office to set up an estimate time – when we are in our busiest time of the year, estimate meetings could be booked out at least a week from your call. At the estimate meeting the owner will assess your current liner, structure of pool walls, coping, flooring, skimmer and returns, and other important visual factors that impact installation of the liner. Your estimate will either be given to you during the meeting or sent via email after the meeting. During the busiest months of the year, we ask for customers to be patient as emailed estimates might have a lag time of up to one week. Please understand the owner has the right to refuse any job, especially based on timelines, emergency situations, or structural concerns of the pool itself.
If you do receive an estimate, to be considered a "customer in waiting", we must have a signed contract and deposit in our office. The date of the contract and deposit determines your place in line for the liner replacement list. We do over 70 liner replacements per year in the Greater Toledo Area, so we ask patience for those who value our quality of installation that so many appreciate.
We realize our customers are anxious to get their liner installed to enjoy pool season. We also are anxious for you to enjoy your new pool liner! Weather in Ohio might not be as merciful and sometimes tests everyone's patience.
What are the best weather conditions for liner replacement in Northwest Ohio?
While many people are anxious to get their pool liner replaced in the spring, and have their pool operational prior to Memorial Day, Ohio weather doesn't always allow for the best of intentions. Many customers feel a few days of dry warmer temperatures should allow for immediate replacement of a liner, yet what they don't see underneath the ground is really what determines when a liner can be replaced.
Water takes the path of least resistance and will essentially find any gap around your pool to fill into. If you have a high water table, high ground water or a soil base that doesn't allow for water to run through it easily, you could run into several problems once an old liner is removed and the new one put in. If the liner team does push forward and replaces a liner with a high water table, once the new one is placed it could easily become a floating liner. What that means is when the ground water pressure is more than the water pressure inside the pool, it essentially pushes the liner off the swimming pool bottom. Water seeping in around the main drain or any floor areas can also cause wrinkles in your pool liner.
What are the best temperatures for a liner replacement?
Typically, the ideal temperatures need to be 60 and above, but on a rare occasion we have done liner replacements on really sunny days that dip into the upper 50's. It truly depends on what the temperatures will reach during the installation process.
It is best to trust the judgment of our team to make the best call for your soil, water table, pool floor, temperature on when to best replace your liner.
What are my responsibilities as a homeowner during the liner process?
You will need to be available during the installation process, especially if you are filling the pool from your home. You are responsible for water filling, providing electricity for equipment, and monitoring water filling during the process. There will be two fill lines once the liner is installed that we will ask a homeowner to monitor, the first fill mark will allow our team to come back to finish installation and the second will be to fill to operational level for us to return to finish the project. There will be equipment running during the time you are filling to the first mark, which typically occurs overnight. Once the water reaches that first mark you are then able to turn off all running equipment.
Should I fill the pool myself or have water brought in?
This is a common question we receive – and its based on a few factors. Deciding to have water brought in is the fastest way to fill a pool, but sometimes is the most expensive. We encourage customers to check with their local water supplier to compare rates. For some customers that live on a well, typically it is not an option to fill a pool from. There are risks to those who live on a well – it could burn up the well or well pump because of the volume of water needed to fill a swimming pool. Usually well water also has a harder water base for chemicals to balance, so those customers chose to have it brought in. Having water hauled in does allow the company to finish installation faster, also forms the liner to the walls quicker. In the end it truly comes down to costs for most homeowners. It should be noted too, some municipalities offer customers to pull a hydrant permit to pull water from the hydrant, in which we can supply the hoses. No matter what direction you go, it should be noted refilling your pool is not included in any contract with our company.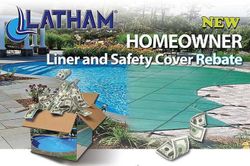 Are there any incentives that I can take advantage of?
Each year Latham offers a rebate program to those customers who purchase a liner and safety cover within the same year. When we measure your pool for a pool liner – those measurements can also be applied to a new safety cover. Please ask the office for more information, but this might be the year to consider both a new liner and new safety cover!
Daudelin Pools Renovation Project: Low Hung Liner Conversion