Constructed with steel walls, concrete like vermiculate floor
Vinyl surface is non-abrasive
Over 30 shapes to choose from
Some customization with steps
Constructed with materials to make concrete like surface.
Custom shapes and sizes
Many options for pool surface
Custom rock water and fire features
Due to demand, all new pool builds are booked for the 2022-2023 season. We apologize and would be happy to schedule a time to speak you in Winter 2022-2023. Thank you.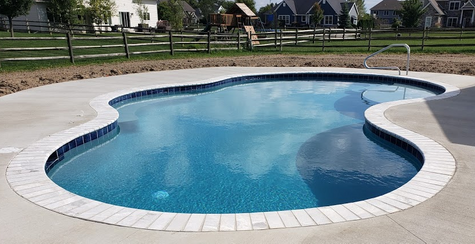 At Daudelin Pool Services, we choose to construct specific types of swimming pools: Vinyl Liner and Gunite
Choosing to construct/ build an in-ground swimming pool at your home can come with a great deal of excitement as well as a mountain of information to process. As a homeowner you will be presented with a myriad of options to consider such as swimming pool construction type, size, shape, depth, features, finishes, etc.
At Daudelin Pools we know that a beautifully designed pool is only as enjoyable as it's construction quality. We choose to construct/ build two types of swimming pools - Gunite and Vinyl lined swimming pools. With decades of experience servicing and renovating existing swimming pools we have seen and repaired/ renovated countless swimming pools built over the last 50 years. We have firsthand experience with what works well and what should be avoided. This experience has guided our decision to construct/Build these two types of swimming pool.
We know that our reputation is our greatest asset and our intent on every project is to provide the highest quality product available. We cater to those who appreciate the value of a quality installation along with a high level of personal service.
Our swimming pool construction includes the following:
Swimming pool drawing and permit
Swimming pool layout and excavation
Dirt removal
Swimming pool structure as designed
Premium mesh winter safety cover including installation and first year's closing
Salt friendly ladder and handrail
Electrical permit, bonding, equipment supply, and all necessary inspections
Natural gas supply to pool heater
All underground and above ground filtration plumbing
Swimming pool maintenance supplies
Additional options to consider:
Tanning ledge(s)
Customized pool steps/benches
Hot tub
Diving board
Slide
Colored LED lighting
Robotic pool cleaner
Customized water features
Natural stone swimming pool coping
Wet Edge interior finishes (gunite only)
You don't have to imagine your incredible outdoor escape, now you can see it for yourself!
With the NPT Backyard app, design and see the pool of your dreams right in your own backyard.
Design your new pool or remodel your existing one by choosing your favorite tile, coping, finishes and decking then use the augmented reality feature to see the pool of your dreams right in your backyard!
Vinyl Liner Pool Shapes Available