Toledo Pool Services | Call Us Today: 419-874-1900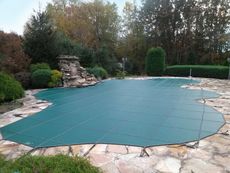 Safety Covers
Daudelin also uses Latham for Mesh Safety Covers. Mesh covers allow for maximum drainage, highest abrasion resistance and tear strength and come with a warranty. Premium Mesh Safety Covers will block 99% of the sunlight. The custom heady duty hardware has a lower profile, allowing the covers to lay flat and fit tight, no matter the shape of the pool. All covers come in the following colors: green, blue, gray and tan.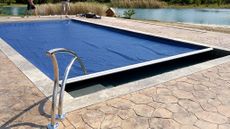 Automatic Pool Covers
Could it be as simple as flipping a switch to cover and uncover your pool?
Latham Coverstar Automatic pool covers create a barrier over your pool that no child or pet can infiltrate. While many customers choose automatic covers for their ease of use, there are several benefits to installing an automatic cover!
90% reduction of evaporation
70% reduction of pool heating costs
50% reduction in electricity costs
70% reduction of chemical use