Toledo Pool Services | Call Us Today: 419-874-1900
New Regulations for Pool Pumps – affecting all pools in 2021
With 2021 approaching it means we are closer to the new federal regulations for variable-speed pool pumps, scheduled to take effect on July 18, 2021. In a nutshell, it will require that all pool and/or spa filtration pumps meet certain energy-efficient standards. At the moment those requirements are only met by variable-speed pumps. These regulations are the result of collaboration between manufacturers, utility companies, energy-efficiency advocates and the U.S. Department of Energy.
Why this new regulation?
The official title of the regulations is "Energy Conservation Standards for Dedicated-Purpose Pool Pumps." As the name suggests, the main focus is on energy conservation. The Department of Energy has determined that the energy conservation standards for these products (pool pumps) would result in significant conservation of energy, and are technologically feasible and economically justified.
California has long been the frontrunner for energy conservation in the United States. Back in 1976 California adopted Title 20 – Public Utilities and Energy. This first act was an effort to reduce energy consumption by making appliances more energy efficient. Title 20 has been updated over the years and now covers everything from appliances to LED light bulbs. In 2006 California added requirements for pool pumps to make them more energy efficient. Starting in 2021 these updated regulations will be mandatory nationwide.
What should I expect to save?
Studies show that pool equipment operation accounts for up to 20% of yearly household energy consumption. Pool pumps use a lot of power – when it comes to household appliances they are second in usage to air conditioners. Variable-speed pumps can use 50-75% less energy than single speed motors to accomplish the same job. Based on current electricity costs, this can translate to a savings of more than $650.00 per year on your electric bill.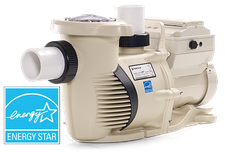 If you are on the market for a new pump or motor replacement and are unsure which ones qualify under Title 20, click HERE.